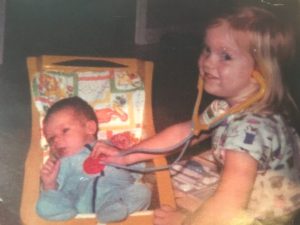 Dr. Bragg wants to be a doctor like in the old days…
What is the definition of Direct Primary Care (DPC)?
Direct Primary Care is a primary care payment arrangement (membership) made directly between the patient and the physician that does not require filing claims to insurance companies or collecting co-pays or co-insurance. The main benefit is a more personal healthcare experience. The medical field calls it Direct Primary Care, the members call it awesome!
Why does Mill Creek MD charge a membership fee?
Our simple, straightforward and fixed monthly membership fee at Mill Creek MD covers all of your primary healthcare needs at our office.
Are there any co-pays or co-insurance?
No, the monthly membership fee covers all the services we provide.
How many patients will you be accepting?
We have reached our practice limit and are currently on a waiting list. Please email our office at millcreekmd@gmail.com and your name will be placed on the list, and you will be notified when there is an opening.
I already have health insurance. Why should I pay an additional monthly fee for health care?
Membership at Mill Creek MD works well in conjunction with insurance plans, particularly high deductible/high co-pay plans. We anticipate that most of our members will save money (compared to standard "co-pay" insurance plans) when combining the Mill Creek MD membership with a high-deductible health insurance plan. Think of Mill Creek MD membership program as an independent, supplemental and comprehensive way to obtain your primary healthcare.
I am fairly healthy and don't need a doctor often. How would DPC benefit me?
Everyone can benefit from more personal and individualized healthcare. Dr. Bragg will be available to answer simple questions you would normally not go to the doctor about. Instead of making a list for your six-month visit, simply email or text your doctor and receive a quick reply. This kind of service can save you from going to an acute care center on the weekend or when you are out of town. Many prescriptions can be called to out -of -state pharmacies.
Are there any contracts or commitments?
No, although we do ask that you give us a 30-day notice of cancellation. We are committed to providing you with the best primary healthcare available. We want to give you quality care at an affordable cost in a compassionate manner.
Are there any hidden fees?
No. See our comprehensive list of services that are included FREE with your membership.
What about lab work and other types of tests?
Except for highly specialized tests that require special processing, we will draw labs in the office and send them to the provider that your insurance company contracts with. Additionally, a discounted rate on many lab tests will be offered – this will be of special interest to those with high deductible insurance or for those that are self-pay.
When do I pay my fees for visits, labs, etc.?
To keep administrative costs down we require members to set up automatic withdrawal of the monthly membership fee from their bank account or a direct charge on their credit card.
Do I need an appointment or are you a walk-in clinic?
Our intent is to offer same-day or next-day appointments. Please contact us first to make an appointment
How long do doctor visits last?
As long as we need to take good care of you! Taking into consideration the complexity of your medical issues and certain peak seasons, the time may vary.
What if I need a specialist, diagnostic testing, an emergency room visit or hospitalization?
We can suggest and arrange referrals for diagnostic testing or visits to specialists. We try to limit your having to go to the emergency room by trying to handle your concerns in a timely manner. Sometimes, based on the complexity and severity of your problem, a visit to the ER is your best option. We strongly recommend having health insurance in the case of an unexpected, expensive event such as a surgery, an ER visit or a hospitalization.
Do you make house calls? What if I need to be admitted to the hospital?
We do not make house calls.
If you need to be admitted to a hospital, you will be taken care of by a hospital physician, then we will coordinate your follow-up care. We are associated with all local hospitals – you may go to the hospital of your choice and we will obtain the records directly from the hospital.
Are there other types of visits that I can do by phone or text?
Yes, these "virtual visits" (texting, e-mails, and phone calls) can save you the time and hassle of coming in to see the doctor. However, these are not a substitute for in person visits. Generally, if the issue does not require a physical exam, a virtual visit is fine. Many chronic issues (like diabetes or hypertension) and medication refills can be largely managed through email and virtual visits.
I am uninsured. Can you be my doctor?
Yes, I accept all patients regardless of insurance status.
Is Mill Creek MD membership a form of health insurance? Is Mill Creek MD membership a substitute for health insurance?
No. Membership in Mill Creek MD is a great way to receive high quality primary health care, but we still believe insurance is helpful for unexpected emergencies and expensive events. We recommend that you continue to have health insurance to cover other costs beyond the services of our office such as specialist care, hospitalization, imaging, and labs.
Can Mill Creek MD bill my insurance plan?
No. Mill Creek MD does not contract with any insurance plans.
Can I use my insurance elsewhere if I join Mill Creek MD?
Your insurance plans will continue to operate "as usual" at other doctors' offices, hospitals and pharmacies. Many plans do not require a designated "gatekeeper" doctor for referrals, medications, tests, and the like, so Mill Creek MD can order those services as needed just as any other doctor would do. Some HMO-style plans do require an "in-network" primary care doctor for access to other services, so these plans do not pair as well with membership in Mill Creek MD. Please check with your insurance company.
Can I use my FSA or HSA account/card with membership at Mill Creek MD?
We recommend that you check with your human resources (HR) department or your accountant regarding the use of these funds to pay for your membership. This issue is under a lot of debate in the government.
What type of insurance would you recommend?
Mill Creek MD is not a financial or health insurance adviser, but we expect that Mill Creek MD members with high-deductible type health insurance plans will be very pleased with their arrangements when combined with our services. Also, members of healthcare cost sharing programs like Christian Healthcare Ministries and Samaritan ministries will find that their membership with those programs complement membership in Mill Creek MD. Mill Creek MD can provide day-to-day services while a high deductible or a healthcare cost-sharing plan can help limit the enormous expenses of a major event. High deductible health insurance plans usually have 20-50% lower premiums than low-deductible ("co-pay") type plans. Christian healthcare cost sharing plans have even lower monthly out-of-pocket costs.
Are my medical records shared with insurance companies or the government?
No. We are not obligated to share any of your information unless you specifically request that we do so.
Do you accept Medicaid?
We do not contract with Medicaid and do not bill them for our services. Medicaid recipients are welcome to join Mill Creek MD, but will likely be assigned a "network Primary Care Physician (PCP)" that they may be required to see to access other health plan benefits and services.
What about Medicare?
I can see patients with Medicare, but I do not bill Medicare. You will sign a Medicare Opt-Out Agreement stating that neither you nor Mill Creek MD will directly bill Medicare for our services. Medicare will still cover labs, testing, imaging, medications, specialist visits, and hospitalizations just as it usually does.
Still have questions?
Contact us for answers.